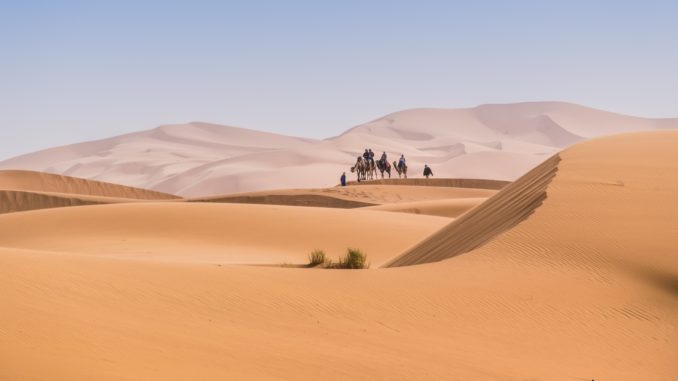 Marrakech is an oasis. Around us, the desert spreads out in majesty. Lunar landscapes and magical moments await you. An excursion not to be missed from Marrakech.

A timeless adventure: camel trekking and bivouac in the desert.

A camel ride in the desert is an experience that will leave you with unforgettable memories. This type of excursion is usually done over a short week. It takes at least three days to reach the desert by the road that crosses the Atlas Mountains, enjoy the scenery and return.
You can go there as a family and offer your children the unforgettable memory of these sand dunes as far as the eye can see, these incredible scenery straight out of an adventure movie.
You will sleep in a tent, in a bivouac specially designed to welcome visitors. In a few hours you will be transported into a world of imagination and dreams. She'll be Scheherazade, you'll be Aladdin…
The Agafay Desert

Only 30 kilometres south of Marrakech, the Marrakchi desert is a "reg" of stones and rockeries that will enchant you with the magic of its landscapes where the Atlas Mountains can be seen in the distance. Many of those who visited it admit to having been overwhelmed by emotion when they were first confronted with these immense desert expanses, these almost supernatural colours and these totally bewitching sunsets…
You can choose between a night in a guest room or in a Berber tent. There are many possibilities for you to go on a trip: on horseback, by buggy or even by helicopter.
The oasis of Ouin Medkour

A landscape still untouched by tourists, the Ouin Medkour oasis is full of spirituality because of its history of tales and legends, such as that of a tribe of giants that made their home in this region in the 12th century. Go to this superb oasis in the footsteps of the nomads who once inhabited this land.
Sabulum therapy

Why not consider a sand bath cure? If you suffer from arthritis, neuralgia, spinal pain, rheumatism or low back pain, this experience is for you. The principle is simple: your body is completely immersed in hot sand in successive 10-minute sessions. You will then feel an astonishing warmth invade you. The pressure of the sand favours circulation. The gentle heat it propagates and the minerals and nutrients it contains will act as a long-lasting remedy, capable of treating or relieving the ailments most resistant to traditional treatments.
Ask our concierge to organize the excursion for you.