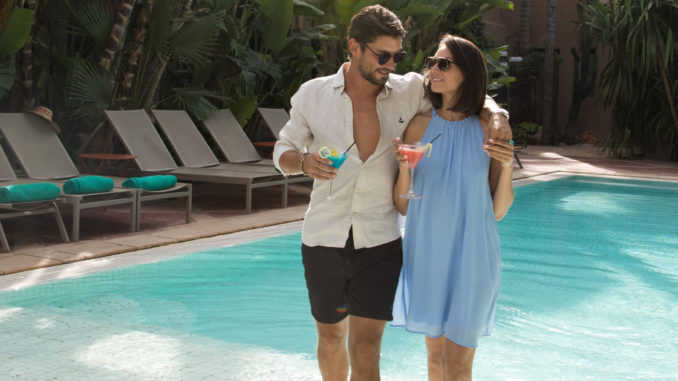 It's a lovers' party. The day we secretly prepare to say "I love you" as if it were the first time…

The whole world in unison will celebrate Valentine's Day on 14 February 2020. In cities and countryside, at the sea and in the mountains, in the West and in the East and in Asia, on this day all the lovers of the world will form together the wish that their love will live forever!
There are places that seem to have been specially designed to receive these promises of eternity. Unquestionably the Gardens of the Medina are among them. Here romanticism is everywhere. Here love has found its home.
This year, as every year, it is with immense joy and much tenderness that we are preparing to welcome you for this very special day. And it is with immense gratitude and a lot of emotion that we thank you for sharing with us this so special day dedicated to the most beautiful of feelings…
VALENTINE'S DAY MENU

A dinner imagined by our chef Sanaa, full of passion, tenderness and voluptuousness.
Cream of parmesan and Ceps
*****
Duo of duck liver, quince cream, chocolate sauce
*****
Strips of John Dory, smoked bacon and chicory
OR
Saddle of lamb at low temperature, a drop of cauliflower with caramel, icy ceps, spicy juice
*****
Message with love colors
450 Dhs / person (excluding drinks)
The animation is provided by the magician Youssef Chouiter and the lute player Abderrahim.
WELL – BEING LOVERS…

A wonderful moment to share
Access to the hammam for two
+
Body & scalp massage for two
+
Facial radiance for Madam
+
Barber care ( or shave) for Sir
+
A glass of champagne per person
Special rate : 1800 Mad instead of 2580 for two people -120 minutes
Reservations

By phone : 00212 5 24 381 851